This is starting to get the rounds, so apologies if you've seen it more than once. The New York Times recently ran
an article
about The Tesla Science Center's mission to save Wardenclyffe, Nikola Tesla's only surviving lab. The Center would like to restore the land and turn the lab into the museum it deserves to be.
Why is it in danger? Tea Fougner wrote, explaining:
"The lab is currently for sale for $1.6 million dollars and the owners, Agfa (the film people) are threatening to raze the buildings in spite of the state acknowledging their importance as an historical landmark."
Fougner has set up a paypal account for the center, since they don't have one of their own (Seriously, scientists! Get on the ball!), and also happens to be
offering custom Tesla sketches
for donations over 20 bucks. The funny picture is a link to the center itself, and below, a paypal link: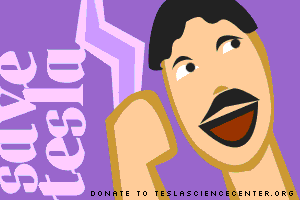 Save Tesla!
If you'd rather not go through a secondary source, you can send checks (made out to "Tesla Science Center at Wardenclyffe") directly to the Center at:
Tesla Science Center at Wardenclyffe
P.O. Box 552
Shoreham, NY, 11786
This is really something that deserves to be preserved.